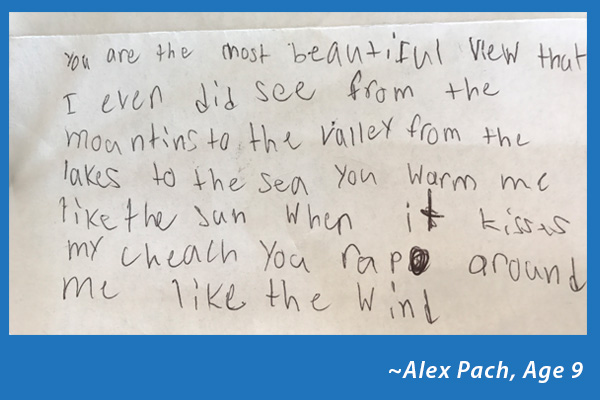 Occasionally our guests will leave a note or send something once they get home. WE are so appreciative of the time our guests spend to write and say thank you and compliment the Vista.  Here are some samples and for more you can visit
---
We were in Boston for 3 days and decided to end our trip in Gloucester. I searched high and low for the right place to accommodate our family of 4, Vista Motel did not disappoint! The grounds and heated pool are beautifully maintained by friendly staff, the rooms are set in the the 60's and for some that might be a negative but everything is so clean and maintained. Our room was spacious with a mini-fridge, microwave and coffee maker. We had a great view of Good Harbor Beach from our balcony, we loved sitting out every night looking at the ocean. The ladies at the front office were wonderful to talk to. We can't wait to return to this wonderful place.
____________________________________________________________________________
Hello
Just a quick note to say what a lovely stay we had at the Vista.  Everything in the room was fresh and clean,  the view was beautiful and the TV had a fabulous selection of channels for my sports nut hubby!  The breakfast was delicious and we thoroughly enjoyed chatting with the other guests as we munched on wonderful muffins and pastries.
Thank so much and hopefully we will see you again.
Kathleen ~ October, 2015
---
Hello! We stayed at your lovely Motel Saturday night. We called you and we were the ones with a dog. I thank you for your hospitality . Everything was great and the Continental Breakfast outstanding. I am a Chef by Profession. Outstanding that is why you are successful. Taking care of Business. Thank You.  We will be back!
Peter, Jean & Sadie ~ June 2015
---
Hello, we just wanted to let you know we had a wonderful time at your motel. The service was wonderful and everyone was so friendly. We will certainly recommend your motel to anyone that is going to be in your area. I was wondering if I could ask you a favor, in the attractions book in the room there is an article about the Wicked Tuna guys. Could you possibly send us that article. I meant to take it with me and I forgot. I would really appreciate it because I want to show some fishermen around here as that is a very popular show in our area. Thank you again for a wonderful stay with you.
Norm and Linda Beasley ~ June 2015
---
We really enjoyed our stay at your hotel, the location was great! We loved the room, it was a great size and had a nice view. The room was very clean and the entire hotel well kept. We loved having a carport too. Thanks for a great stay! We would definitely come back. 
Sue ~ June 2014
---