ADA Premium Double Ground Floor Room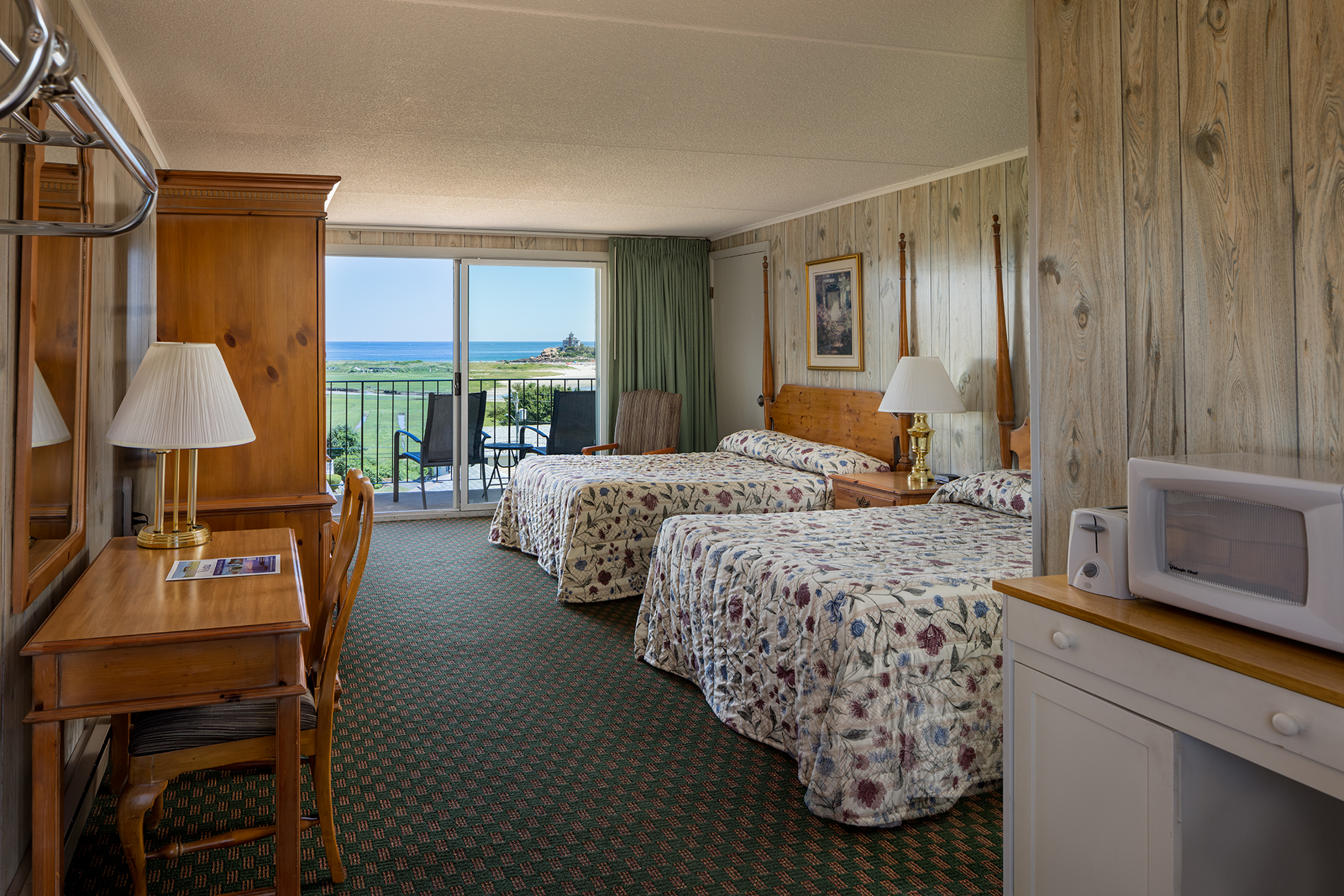 OUR ACCESSIBLE DOUBLE PREMIUM ROOM
Our Accessible Double Premium accommodations are ground level with fabulous ocean views and two double beds. A dedicated parking space is located at your door (advanced notice appreciated). In addition, the room is equipped with a spacious bathroom with grab bars at the toilet and in the tub for support. A tub seat and seat riser for the toilet are available upon request. The tub also has a hand-held shower for ease of use.
Amenities:
Bedroom: 268.5 square feet Bathroom: 48.8 square feet (including tub)
Complimentary WiFi
Relax in a deck chair on your private patio and enjoy fabulous views
Refrigerator/sink/two-burner stove unit
Pots, pans, dishes, flatware, utensils, and glassware allowing you to cook and dine in your room
Coffee maker, toaster, and microwave oven
Individual heat and air conditioning
Private bath with tub
Hair dryer
Alarm clock radio
Device charger
Property Features:
Remote check in and check out available
Accessible parking with dedicated spaces at the door of our accessible rooms
(Advance notice to reserve parking is recommended)
Accessible route from entrance of accessible guest rooms to pool and breakfast pavilion
Accessible pool via a portable lift (advanced notice appreciated)
Additional Features:
36"-wide entry and bathroom doors
Grab bars in bathrooms
Lowered vanity sink with paddle faucet handles
Service support animals welcome
Please note: The Vista was built in 1960 and the Premium building in 1981, prior
to the Americans with Disabilities Act of 1991. Therefore, it does not comply with
all accessibility requirements, however, our accessible rooms do have important
features to assist our guests with disabilities.
All of our guests enjoy:
Free WiFi
Free Continental Breakfast

Free Parking! All day long even on the days of arrival and departure

Free local and long-distance  telephone calls (US & Canada)

Plenty of ice for your cooler
Heated outdoor pool (seasonal).
Jumbo, plush pool towels
Fabulous views of Good Harbor Beach from anywhere on the property!
Deposit & Cancellation Policy
A one-night advance payment is required to guarantee your reservation. This deposit is refundable less a $10.00 processing fee as long as you call to cancel more than seven days prior to your first night's stay. Should you cancel within the seven-day period we will make every effort to resell your room; however, you may be required to forfeit your full deposit. Cancellations within seven days of your first night's stay are subject to a $50 cancellation fee and the remainder of your deposit will be returned to you.