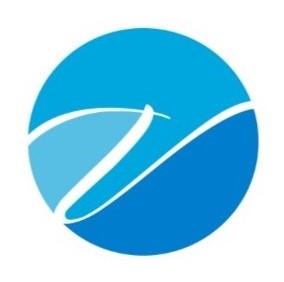 The Vista Reopens April 3rd for the 2020 Season!
All of us at The Vista hope that you are well and managing through this epic pandemic. As I write this on March 20th, I understand that much can change in the next week, the next day, even the next hour. For the present we are getting ready to reopen The Vista for the season on April 3rd and we will operate with a skeleton staff,  running the office remotely with all phone calls forwarded to Garry and Yvonne. Joilma and I are implementing a room cleaning and sanitizing process that will keep guests and housekeepers safe. Because of this, all areas of the motel will receive appropriate attention that will adhere to the strictest protocols set out by the appropriate authorities. As always we promise you a clean, comfortable and safe environment where you can enjoy fresh air, ocean views and walks and relaxation. All of this will help our immune systems be strong. Please do not hesitate to call if you have questions or just want to say hi! The Vista office number is (978) 281-3410. You can also reach me on my cell at (781) 367-4300. I will leave you with a quote from Buddhist teacher, Tara Brach:
"THE SINGLE MOST IMPORTANT THING THAT CAN HAPPEN RIGHT NOW IN THIS PANDEMIC IS THAT WE FEEL OUR COLLECTIVITY — THAT WE'RE HERE TO HELP EACH OTHER MOVE THROUGH THIS"
Here are some before and after photos of the patio renovation over the winter. The dining patio will be awesome! The result so spacious and now protected from the elements. A new awning will be in soon and landscaping is ongoing.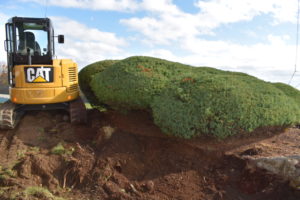 The giant bush that was threatening to take over the view — gone!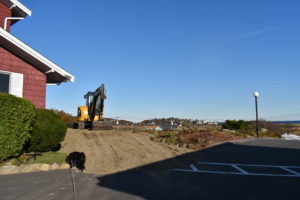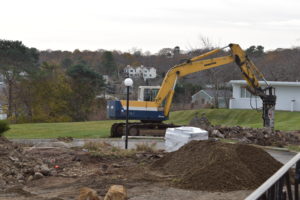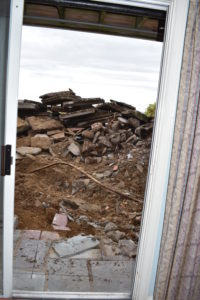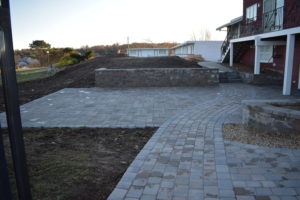 This circular structure is a new base for our flagpole.