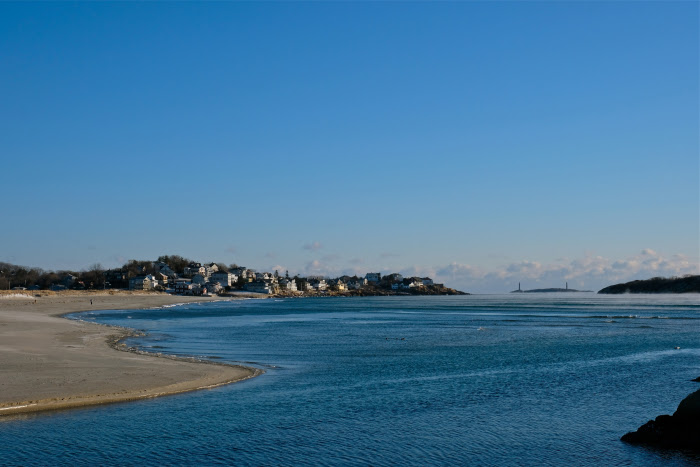 Happy Winter to all!
Kim Smith posted this lovely shot on Good Morning Gloucester a few days ago. I love her work and look for it when I open up my daily GMG e-mail.  I thought I would share some of photos with you today. Even though we are in the middle of winter, it's not too hard to imagine this beautiful beach full of people splashing in the water, strolling from the footbridge to the snack bar and gazing at the rolling, unending waves. It's never too early to plan for that sunny beach day and we are always here for you to assist in those plans.
Back to winter wonderings ~ Did you know that in the off season, on even-numbered days you can let your dog off leash on Good Harbor Beach? It is puppy heaven out there (if it's not frigid) and I'm sure the dogs love it more than their humans! Today, however, the temperature is in the 50's and it's easy to think that spring is right around the corner. We still might get a snowstorm or two, hopefully not more! So far, it is a much calmer winter than 2018 with all the flooding and so much dryer than 2015 when we had blizzard after blizzard after blizzard. I know I am challenging Mother Nature by even thinking we might be off the hook weather-wise but…If the weather turns nasty tomorrow, everyone can blame me!
Lastly we are celebrating another Pats Superbowl victory! With the low score, it wasn't the most thrilling game to watch but it was still nerve-racking and I am glad it's over. I'm happy for the team because they are truly that, a team. They help and support each other and that is a great model for athletes and non-athletes everywhere.
The Vista will reopen April 1st and we will look forward to seeing friends, old and new. Yvonne and I are manning the phones until the office re-opens and we are here for you 7 days a week. Monday through Friday 9 a.m. to 9 p.m. Saturday and Sunday from 10:00 a.m. until 6:00 p.m. Call for a reservation or availability or to just say hi and ask about the weather. We'd love to hear from you!
Best,
Laura